Planning to host a dinner party or game night? Or a movie night with your partner?
Then the ritual of munching snacks is truly an unsaid affair!
Tasty snacks are an important part of this night.
Appetizers are the best part of a party, and having them with a tasty dip makes munching snacks worth every penny! Dips complete appetizers, like a true love story. And, with this love story, you can win over anyone.
We have listed down a few classic and easy-to-make recipes to create dips to dive for!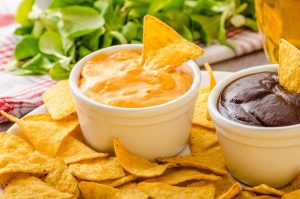 #1 Hummus – Arabian Chickpea Dip
Ingredients:
● 1½ cup dry chickpeas (washed and soaked in lots of water overnight)
● 6 cloves of garlic
● 4 tbsp tahini paste (sesame seeds paste)
● 1 tbsp paprika powder
● 1 tsp cumin powder
● Salt, as required
● Olive oil, as required
Method:
● Pressure cook the chickpeas in little water (do not add too much water, just level should do) with the garlic and salt till well cooked.
● Drain and allow to cool. Reserve the water for grinding.
● In a grinder, add the cooked chickpeas, garlic, the tahini paste, paprika powder, cumin powder, a glug of olive oil, salt and little of the water in the cooker and blend together into a very thick paste.
● If you face difficulty in blending, add a little more water.
● Scrape into a serving bowl and serve with a splash of paprika and olive oil drizzled on top!
● Serve with tasty bread nuggets and multigrain snacks.
Make each dunk count!
#2 Cucumber Yoghurt Dip
Ingredients:
● Yoghurt
● Cucumber
● Garlic
● Fresh dill minced
● Lemon juice
Method:
• Add the cucumber, garlic, dill and lemon juice to the yoghurt.
• Stir it well and season it with salt and pepper.
• Serve it sides like with pita chips, sliced vegetables or multigrain bites.
Ready to dip dive with Teetoo snacks?!
#3 Spring Onion Dip
Ingredients:
● Chilled yoghurt
● Chopped spring onions (whites and greens)
● Chopped garlic
● Chopped green chillies
● Cumin powder
● Mustard powder
Method:
• Combine all the ingredients together, mix them well and serve with Teetoo tasty snacks.
5 minutes to make, 5 minutes to whip it clean.
#4 Indian Style Corn Dip
Ingredients:
● Boiled and coarsely crushed sweet corn kernels
● Milk
● Cornflour
● Mustard seeds
● Cumin seeds
● Green chillies
● Finely chopped coriander
Method:
• Combine the milk and cornflour in a small bowl and mix them well until the cornflour dissolves completely. Keep aside.
• Heat the oil in a broad non-stick pan, add the mustard seeds and cumin seeds and cook them on a medium flame for a few seconds.
• When the seeds crackle, add the sweet corn, green chillies, corn flour-milk mixture and salt. Mix well and cook on a medium flame, stirring continuously for 2 minutes or until the mixture thickens.
• Garnish with coriander and serve immediately with jalapeno multigrain hoops or Saudi flavour bread nuggets.
The GOAT of dips!
#5 Muhammara
Ingredients
● 2 red bell peppers
● 4 tbsp Extra Virgin Olive Oil divided
● 1/4 lb shelled toasted walnuts
● 1 garlic clove roughly chopped
● 2 1/2 tbsp tomato paste
● 3/4 cup bread crumbs
● 2 tbsp pomegranate molasses I used this one
● 1 tsp Aleppo pepper
● 1/2 tsp sugar
● 1 tsp sumac
● 1/2 tsp salt
Method:
● Preheat the oven to 425 degrees F.
● Brush the bell peppers with 1 tbsp of olive oil, and place in a lightly oiled oven-safe pan or cast-iron skillet. Roast the peppers in the 425 degrees F heated oven for 30 minutes or so, turning them over once or twice.
● Remove from the oven and place the peppers in a bowl. Cover with plastic wrap for a few minutes.
● When cool enough to handle, simply peel the peppers, remove the seeds and slice the peppers into small strips.
● Now in the bowl of a large food processor, combine the roasted red pepper strips with 3 tbsp extra virgin olive oil, walnuts, tomato paste, bread crumbs, pomegranate molasses, Aleppo pepper, sugar, sumac, salt and cayenne. Blend into a smooth paste.
● Transfer to a serving bowl. You may cover the muhammara and refrigerate, but be sure to bring the dip to room temperature before serving.
● When ready to serve, top the dip with a drizzle of extra virgin olive oil, and garnish with a little more walnuts and fresh parsley, if you like. Serve with pita bread or pita chips. Enjoy!
Do you like your dips sweet, slightly smoky, spicy enough and all sorts of savoury?!
#6 Spicy Yoghurt Tortillas
Ingredients:
● Flour or corn tortillas
● Sunflower oil
● Fenugreek seeds
● Mustard seeds
● Ground turmeric
● Fresh coriander
● Natural yoghurt
For the masala:
● Green chillies
● Garlic cloves
● Fresh ginger
Method:
● For the masala, grind or whizz the chillies, garlic and ginger to a fine paste with a pinch of salt, using a pestle and mortar or a blender.
● Tear the tortillas into roughly 4cm squares. Heat the oil in a large, deep frying pan on medium heat for 2 minutes, then add the fenugreek and mustard seeds. When the mustard seeds start to pop, add the tortillas and fry for 2 minutes on each side. Add the masala paste, turmeric, salt and sugar, then stir, gently frying the tortillas for 3 minutes more on each side. Add a handful of coriander and stir in.
● Add the yoghurt and 200ml water to the pan and stir through gently. Take the pan off the heat and leave to stand for 2 minutes. Serve immediately, sprinkled with the remaining fresh coriander.
There is certainly a tasty reward after this arm workout!