It is difficult to solve the binge eating disorder just by yourself. Most of the people suffering from it aren't aware of it. By the time they know it it's too late. But all hope isn't lost!
A number of studies report that less than half of people with this disorder don't reach out for professional help. That means millions of people could be trying and failing to handle this problem alone.
If you feel the signs resonate with you then you should self-reflect and get professional help.
This is not a checklist, as some of the people suffering from an eating disorder won't have all the signs at once. The list is a general overview of behaviours that indicate the disorder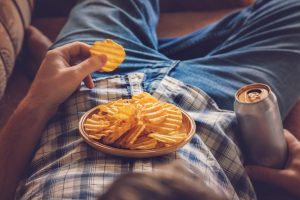 Five Signs of Binge Eating Disorder Are:
#1 – Overeating: Eating a huge amount of food quickly
Binge Eating Disorder (BED) is commonly known by compulsive overeating or consuming abnormal amounts of food. It takes about 20 minutes for your brain to send a signal to the stomach, to let it know that it is full. If you eat beyond this point and are still hungry, you should consult a doctor.
#2 – Not focusing on taste, smell and texture of the food
People binge eat to feel "good", which often perpetuates a continuous need to eat, even when not hungry. Binging on tasty snacks that are oily and unhealthy without stopping is one of the things that is subtle but if you pay attention to it, you will understand. This behavior generates a vicious cycle that snowballs into a bigger health problem Replace unhealthy snacks with Tasty, healthy and crunchy multigrain snacks with Teetoo snacks.
#3 – Rapid weight gain
Binge-eating disorder is associated with obesity. Eating a huge amount of food at once will surely have a big impact on body weight. Our body stores non-essential fats which we don't use to cause a rapid increase in weight and loss of energy. Eating healthy snacks and multigrain snacks from Teetoo snacks like multigrain bites, bread nuggets, ketchup popcorn, multigrain hoops are some of the few genuine options that are readily available in the market. These healthy snacks are made from organic ingredients.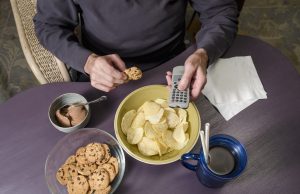 #4 – Hoarding food at places in your house
Binge eating disorder is like being addicted to food. Storing places at unusual places and eating in isolation is a serious symptom of the disorder. Eating in isolation can occur if you feel uncomfortable while eating along with your friends or colleagues. This happens because you are slightly aware of your eating habits and shy away from letting people know. Instead, you could opt for Healthy snacks that are tasty snacks as well like Teetoo snacks.
#5 – Ignoring self-image
Body image is defined as one's thoughts, perceptions, and attitudes towards the way they view them self. A common symptom called the 'body-image disturbance' is one sign to keep a keen eye for, because this is when one starts to lose a sense of self and stops trying towards improvement in general.
Spending hours thinking about your next meal is not something to fantasize about. It is the beginning of a disorder. Instead, discipline yourself for some exercise, at least 15 minutes every day. Be the first to notice these symptoms and get professional help to lead a happy and joyful life.