Do you remember the last time you treated yourself to a tasty snack and didn't have to worry about how it would affect your health? Well, it isn't your fault. Over the years, snacks have developed a bad reputation owing to the extensive list of unhealthy ingredients that contain. While it's impossible to resist a tasty snack, it is possible to steer away from the unhealthy ingredients. How? Let us introduce you to – Snack Revolution.
With every passing day, consumers are becoming aware of what's right and what's not. Gone are the days when you could print a bunch of scientific names on the packet and get away with it. Today, the consumer demands to know and takes effort to know what they are consuming and which is why, now is the time to embrace snack revolution.
Teetoo intends to be at the forefront of this snack revolution and change the way people look at and consume snacks. We, at Teetoo, have struck the right balance between health and taste. Using only top-notch ingredients, that include nutritious grains and superfoods, Ingredients like buckwheat, Quinoa, Amarnath, Millet flour, Whole wheat flour not only contribute to the taste but also ensure your snack is enriched with iron, fibre, minerals and proteins. You can read more about this here.
We want the consumers to accept healthy snacks and for that, we have ensured that our snacks retain the one quality everyone looks for in their snack – taste! A dedicated team ensures that enough research goes into our recipes and products so that we don't sacrifice taste for health. You can go through our complete range of products and pick your favourite healthy snack.
Consumers care more about the presence of natural ingredients in their food than they do about fat content or calorie count, or even the presence of organic ingredients and slowly, we can see consumers drifting away from potato-based snacks. What are they choosing? You guessed it, grain-based snacks, be it in the form of multigrain bites or multigrain snacks.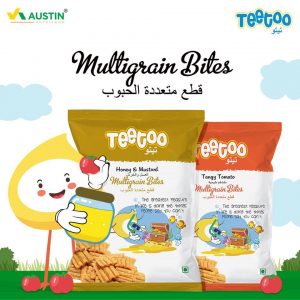 Teetoo wants you, rather urges you to invest in healthy snacking and choosing the right alternative for your tasty treats. Teetoo snacks are an option you must consider if you are trying to adapt a healthier lifestyle. It's these small changes to your lifestyle that make big differences and deliver bigge results. Think of every snack you consume as a part of your "diet plan" instead of calling it a cheat meal because Teetoo Snacks use only wholesome grains and healthy ingredients.
Being healthy isn't a fad, it's a lifestyle. To ensure you continue living a healthy lifestyle, Teetoo aims at providing you with snacking alternatives that don't mess up your preferences and your health. Taste, crunch, and health can go hand in hand – and that's what snack revolution is all about!